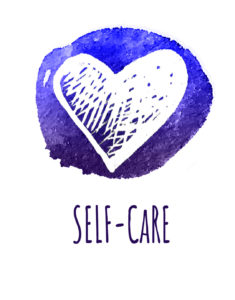 The early days of a traumatic experience require focused attention on your self-care. Whether you have uncovered a devastating truth, been blindsided by the blow of rejection, or simply have just began to understand that your grief is different, self-care is vital.  
-TREAT YOURSELF AS YOU WOULD CARE

FOR A SICK OR INJURED LOVED ONE-  
Give yourself permission to clear as much as possible from your day and focus on your own physical and mental self-care. If you have children or others in your care, now is the time to lean on loved ones. Call in these "Early Responders" to do what you simply cannot: grocery shop, stock your kitchen, run carpool, walk your dog.  When my Early Responders arrived, I even gave them my checkbook and asked them to ensure my bills were paid.  
Hydrate and eat. Sounds so simple, right? When grief sets in, or during the early days of trauma, it's not a priority.  Neither is self-care. Those Early Responders of mine also reminded me to brush my teeth, something that wasn't on my radar.  It is understandable if you aren't interested in eating or bathing during the first few weeks of trauma and grief, so at a minimum, and if no one else is around to help, try to be responsible for your water intake throughout the day and a small meal, at least once a day.  Better yet, TELL someone you need help with this basic need so that they can know how to support you. While it may seem daunting for you to do this, it's  super easy for a friend/family member to ensure this need is met. Let them!
Get comfortable. Blankets, sweatpants, hot baths, naps, tea. Whatever gives your body a chance to feel relaxed and cared for.
Sleep.  Healing takes place when our bodies are sleeping. The brain and the body work to repair itself while we are in this state, so it's another vital part of self-care during grief, especially early-on.  If you can't fall asleep, or stay asleep, ask your doctor for advice.   
If you aren't sure whether you are administering appropriate self-care, think back to how you might care for a loved one during this time. What would care look like for you there? If you were an Early Responder helping a friend, what would and wouldn't you be doing?  Remember: this isn't where you will be forever, just for now.  Treat yourself kindly always, but especially in the beginning. Slowly, you'll find other ways of self-care: yoga, exercise, sunlight, healthy meals, etc. but don't worry if that's not where you are at the moment.  You'll get there.