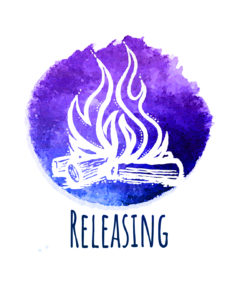 Most Ambiguous Grievers don't share the same luxuries of "clean" grieving, as we do when we lose a loved one to death.  Mourning in Ambiguous Grief is MESSY.  When the person we love is still living, just not as they once were, our grief doesn't quite fit into the societal rituals we practice when a loved one dies.  In death, there is generally a funeral where friends and family gather to celebrate the life of the loved one who passed.  Loved ones speak words of endearment, flowers fill the room, photos of a life well lived are shared.  Attendees comfort the bereaved with hugs, condolences, and prayers.  The dead are remembered with love, and the loss is felt throughout the gathering space.  Communities rally around the family left behind with cards, meals, and other offerings of care.  Even as time passes, death anniversaries are acknowledged and milestones marked in remembrance.  
For the bereaved, there's even (often) a "place" to go, to be with your loved one.  Be it a cemetery, or an urn on your mantle, your loved one can be drawn close, thereby providing a physical and emotional comfort.  We grieve by going to the gravesite and remembering the love.  In death, love is preserved  – with ambiguous grief however, sometimes that love is not.  Sometimes that love is lost to betrayal or abandonment, extensive lies and manipulation, staining the love once shared.  
So how do Ambiguous Grievers mourn? Here are some ideas.
Write A Letter of Release

– Say goodbye through your words. Allow your words to flow and feel your emotions. Name them as they work through you. Sadness, anger, regret, and of course, love. It is said that Grief is the price we pay for love.  If that is true, you may find your grief is proportionate to the love held for your person.  Release them with love, to God, to The Universe, to your higher power.

Pen A Eulogy for the relationship

– Remember your relationship prior to the onset (of illness, addiction, abandonment, etc) fondly. Write it like a speech you would share with an audience, and then if you're able, share it. Share it some more. And then again. Stand up and share it. Record yourself. Deliver it on an imaginary pulpit. It is cathartic.

Co-Grieve –

Find someone who shares

your

loss and can grieve with you, and you with them. For me, it was my Dad. We both shared a deep love for the person we lost. Our talks remembering him brought laughter and tears. Confusion and questions. But mostly, it brought a sense of shared grief for what was lost.  If you are fortunate enough to have many people who share your grief, consider inviting them to memorialize your loss with a small ceremony.  Invite them to share their memories, their feelings, their grief over the shared loss. This can be at a park, in your home, at a place of worship, or even on a conference call. The aim is to join together in remembrance.  Co-grieving with someone also experiencing your kind of loss can accelerate healing.
However you choose to RELEASE, know there is no right or wrong way.
Look to both ancient and modern day rituals across the globe for inspiration and you may discover something that resonates deep within you.  Something that touches your soul and helps to alleviate the pain.