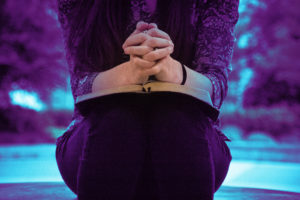 When I google my 16 year old sons name two images appear they are almost exactly a year apart. One is my very handsome, shaggy haired, sweet boy in his travel hockey jersey. An athlete, a model student, ambitious, health conscious, responsible, respectable teenage boy – MY boy. The next image, a mugshot: A 16 year old boy I don't even know, and yet I brought him into this world and raised him, and loved him with every fiber of my being. I do not know him. He is a stranger, angry face, black eyes, and facing serious legal charges.
The first image is a boy I would want my children to have as a good friend, a good influence. The second image I would not let near my home.
When I look at the mugshot and try to figure out where in those black eyes my son is, I just stare searching. All the feelings imaginable stir in the pit of my stomach. In those eye I see anger, addiction drugs, and a stranger. The anger boils, I am angry at my son for being weak and succumbing to these awful substances. Angry at every person in his life that may have introduced him to this dark world. Angry at him for allowing these things take over his body, mind, and soul. Anger above all for how this has affected my second son, my family, my extended family, our life. The boy in the first image, my oldest son, is gone…forever. I mourn the loss of that boy. I want nothing more than to have him back. What I have realized is that if and when he escapes the grips of the substances that have consumed him he will be a different version of himself. A young man that may struggle with these temptations for the rest of his life. Then the worry sets in, I will forever worry about him trying to avoid the grips of his addiction.
It's amazing how life can take such a turn and you find yourself going on a ride you don't want to be on, and that ride is completely out of control and on a collision course. Where and when and how the ride crashes/ends you have no idea, you just hold on as tight as you can and hope and pray (if you pray) for it to be over.
Hope and pray that possibly, just maybe it will correct itself and find its way back on the right path. You prepare for the worst and hope for the best, you squint hard to try and focus to see a glimmer of light at the end of a dark tunnel.
The summer of 2017, my husband and I discovered our son had been smoking pot and occasionally drinking. We chalked this up to typical teenage behavior. We were teens once before so as parents we expected these types of situations would come up. At the time what we didn't realize is how quickly things would go downhill. We discovered (according to our son) that the smoking pot had been going on for quite some time. At the time he also expressed that he was suffering from depression and having thoughts of suicide. He didn't have a plan, just thoughts, feeling as though he no longer wanted to live. He was self-medicating with getting high to numb his thoughts and feelings. I quickly went into action and researched and searched for the right team of psychiatrists and psychologist to help my son feel happy again without using substances to self-medicate himself. It was also the beginning of what we now know as the start of his manipulation, deceit, premeditated planning to send us reeling and allow him to get to what he only desired. With the mention of suicide I quickly responded to get him the help he required to avoid any type of residential treatment, I wanted to keep him home and take care of him. He is my son, I am his mom and that is what I am supposed to do. Rescue him, pick him up when he falls, and be there to help him heal. Then came the first (of 5) run away attempt. An evening so calculated on his behalf that it was almost impressive (I don't say that with admiration).
A day and night I'll never forget, I remember almost everything I did that day, what the weather was like, all of it. The day, unfortunately, seemed to never end as later that night after our search to find him my husband and I found our son at home drugged up on Xanax and who knows what else. My son claimed at first a possible suicide attempt, then claimed he just wanted to be numb and not feel anything. He was so groggy we weren't sure how many he had taken or what else he may have taken. So we rushed to the ER knowing that the result would be residential placement to get him "stable". This was the kick starter for a summer/fall/winter I never thought I would experience.
My husband and I tried everything, from tough love to loving more liberally. Nothing seemed to work. My son continued to go further down a hole. Constantly lying to us, deceiving us, manipulating us, all in an effort to get to the substances he craved.
So many attempts on our part to save him from going further down a dark path. Then came the 4th run away, at this point we were so exhausted, so defeated. We took the approach that we would stand back and watch him fall and be there to pick him up, of course with an "I told you so". We warned him daily that he would end up in jail or dead. We took the approach, "ok you think you can make it on your own, life out of the house at 16 you think will be better and easier". We hoped he would hit HIS rock bottom. The evening of 10/19 we were lying in bed reminding ourselves that we were doing the right thing that it would only be a matter of time before he would get busted and we hoped that it would be the wakeup call he needed. Then, just minutes after our conversation to reassure ourselves, I received the text from my son, one every parent wishes never to receive, it simply said two words "getting arrested". My stomach was in my heels and turned upside down, I felt a hot rush go through my body causing me to perspire just a little. The fear and panic and anger set in. What now? How can I fix this? How can I fix him? I quickly called his cell number, I had a very small hope that he was playing a prank on me but I knew he wasn't, and on the other end of his phone a police officer answered. He nicely explained to me the situation and what my son was in trouble for. There was a bit of relief in this, relief that this is it, he hit his bottom we can only recover and go up from here. So that evening my husband and I visited our son at the scene of his crime, I saw my child handcuffed and sitting in the back of a police car. An image amongst several from this year that I'll never be able to shake. It was so surreal, I looked around at all the police officers, the police cars, the bystanders, and I just could not believe that this was happening to my family, my son, me. We made the decision that we would not bail him out, he needed to sit and learn his lesson and get a glimpse of what life is like in jail. We hoped that it was all he needed to get his life back together, pick up the pieces, and move forward. We let him stay in jail for 5 days before we bailed him out. I thought that this was it, he has learned. I couldn't let him sit there any longer for his safety and my sanity. We brought him home. We tried to get through each day trying to figure out how to move forward, find out a new normal, as you cannot just go back to the way things were after something like this.
So not even two weeks after his court hearing, where he was handed his punishment. My husband and I started noticing little things, little signs of him potentially sneaking around again, trying to deceive us. Of course, at this point we are both so paranoid we hear a foot step in the hallway at night and we assume the worst. We tried to relax but we both knew things hadn't changed, we were both just afraid to say it and make it the truth. He was still finding ways to get his hands on his substances. We smelled pot on two occasions, he had strange behavior that just wasn't him. We sadly discovered that he had been smoking and ingesting prescription pills again. So now we clearly have come to the realization that he has an addiction problem.
And that brings me to this moment in time, I am sitting here trying to summarize and make sense of my life and the life of my family and the reality of the situation we are in. I have watched my whole world completely change and morph into something I never ever thought it would. I have learned to never again say the words "Not my kid". The future is so uncertain and not promised. The life that has unfolded before me I am trying to find the purpose in this. Do I take these broken pieces and make something of it or sweep it to the side and try to ignore them. Everyone has a purpose on this earth, it's finding that purpose that poses life's biggest challenge.
I recently learned from a dear friend about ambiguous grief. I found relief that there is actually a term for what I am experiencing. I have experienced a loss so deep it compares to death, yet it is not final. When put in this perspective I have finally realized the peace that can come with death.
With this newfound grief I am hoping to find the peace. Will I ever? How can I when it comes to my child and that unconditional love that you realize exists. The love you experience when you hold your baby in your arms and look in the eyes of a piece of your soul, is there ever peace in that loss? I remember when I first met my son and looked at him I said to myself "This is it. This is why I am living on this earth. This is my purpose". I never imagined 16 ½ years later that my love would lose to addiction. At this point I hope that this is his purpose, he will recover from this and be an inspiration. He will use his story to help other adolescents avoid a devastating future and recover from the grips of addiction. I continue to love him unconditionally and remind him of my love for him daily. I hope that the saying "love can conquer all" proves to be true. I will love with every fiber of my being, like I always have.
I have found that I look at everything differently. I've always enjoyed people watching, who doesn't? When I do it now, it's different. I look at an elderly person and wonder what struggles they have endured in this life, what joy have they experienced. Is it better, worse than mine. I wonder if they've had something amazing or devastating happen in their life. I look at parents with small children and say a small prayer for them that they'll never have to feel what I have felt recently. I look at their children and I hope they maintain the pureness and innocence that is beautiful in a small child for as long as possible. I look at people and I wonder what their story is, what their struggle is and/or their victory. I judge less. So I am trying to find the purpose in this experience, this life that I am currently living. Within that purpose lies my peace. I will find it, it will come to me. I just have to be patient. I will continue to love, hope, and pray. When you let go of everything else that is all you have left.