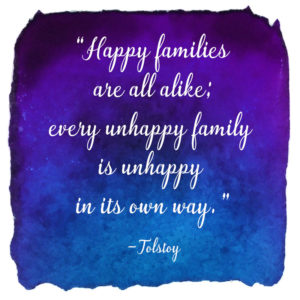 My family takes its dysfunction seriously. Out of the nine cousins and siblings, I have on my dad's side of the family, five of us have had to go non-contact with our living parent because of significant mental, emotional, physical and sexual abuse. Every grief is unique, but the loss of your parental figure is really heart-wrenching. Your loss is the archetype of a parental figure. It is the realization that you have had to raise yourself and most likely you never had a real parent.
For most of my adult life, I tried to maintain contact with my parents because they are family and family matters. Over a decade ago I struck a deal with them where I made them promise to not discuss certain parts of my life and to stick to benign topics like movies or art. I did this partly because of my kids, I didn't want to sour their relationship with their grandparents. I spent holidays with my parents. I did all that I could think of to make the relationship work.
It is hard to know what the tipping point was when it was no longer viable. It could have been when they compared me to being a murder because of my gender orientation. Or when they said I needed psychiatric care because of my sexual orientation. It could have been when they tried to shame my daughter for having a boyfriend at age nineteen. It could have been their support of my brother who abused me as a child and then their support of Trump, another abuser. It could have been when they said my fiance was not welcome at family gatherings because she is trans. Or maybe it was my mother's alcoholism. I could go on for pages and pages. I decided to sit down with my cousin, Kate Schneier, and talk about our experiences and how we have navigated the loss of our parents. It is not something I wish on anyone, but I think unfortunately it is more common than we realize.
My cousin Katie told me that she wanted to talk about this openly because it is "not her shame." I hope that comes through in this.
Interview with Kate Schneier and Jo Schneier
Tell me about what happened? Which relative? How old were you?
Kate: There's a lot to this answer, but the short version is that I was sexually and ritually abused from the time I was 2 years old, to when I was around 11 by my father, aunt and great aunt and uncle. My father made me available to the other family members. My father also had un- and under-treated mental illness (bipolar, anxiety/panic disorders, and OCD) and addiction issues at the same time, which contributed to my family trauma. In addition, I was verbally and sometimes physically abused by my younger brother.
Jo: When I was growing up I was sexually molested. When it all came out when I was eighteen my parents said to me, "Don't tell anyone because we don't want to get your brother in trouble." My rabbi's response was, "Boys will be boys." He literally said that. I think when parents don't protect their kids it is really hard to heal.
What brought you to the point of feeling like you needed to cut off your relative? Did you do the cutting off or did they? Did you get advice to do this?  
Kate: My brain, in an attempt to save me and my sanity, suppressed these memories almost completely, although I always had one, which I'd convinced myself was a nightmare. But as a young adult, I started to pull that thread in therapy, after experiencing depression and suicidal thoughts. I got to a point that I didn't know how to go on until I faced the truth that had been dogging me for all those years. I was not only completely emotionally and spiritually exhausted from carrying this around for so many years– I was physically ill. After a few years of therapy, I had remembered some pieces clearly enough to know that I needed to make a change. My great uncle had died, my paternal grandfather, who I considered the ringleader of this intergenerational abuse in my lifetime (as I believe he perpetrated it on my father). During that time, my aunt, the youngest of her siblings died, after spending her entire life in and out of mental institutions and suffering physically and mentally. I knew that if I didn't do something different, I would die young too. This would take its toll on me and my health would suffer. I didn't want that for myself, so I decided to gather up my courage and tell the truth about what happened to me. I did the cutting off, of my father. I didn't get advice to do it or not do it, but to take the time I needed to come to a carefully considered decision. That was good advice.
Jo: What really pushed me over was when I confronted them about supporting Trump since he is a sexual abuser. Their response was that I was making it "too personal because of my history." Fuck yeah it is personal and I realized that it wasn't an aberration that they didn't support me as a kid. Their support of sexual abusers is a feature not a bug.
What was the last straw?
Kate: I was 27, I was about to get married, and I'd just bought a house with my partner. We were considering having our own kids. I knew that I was starting my own adult life and my own family, and I just needed to close the chapter in which I was a victim of those circumstances. I needed to draw that line. I'd started to feel sick whenever I talked to my dad on the phone. I felt like I was living a lie, and that's never been who I am.
Jo:  I lived for most of my adult life avoiding the reality of their mental health which displays all of the symptoms of Nnarcissistic Personality Disorder. I would describe them as "eccentric" to most of my friends. I was sitting down with my therapist and she said to me, "Do you think it is possible that your parents may bear more responsibility in raising four kids that all have addiction issues that resulted almost in death or had major health impacts on each of you?" I wasn't open to it. I fought it internally. My last communication with my parents was when my mom said to me that she was "trying to love me." It was my last straw, but that was less than a year ago, I am 39.
How did you go about cutting off ties?
Kate: I wrote my father a letter, and told him. I wrote and re-wrote that letter, with the help of my therapist. Then, I told my mom and my sister before I sent it. That part was excruciating, but I knew that had to be part of it. Then, I sent the letter. He didn't take it easily. My father tried to contact me again and again. He offered to forgive me, instead of the other way around. He sent me birthday and holiday cards, he tried contacting me at work, he got my step-mother to try contacting me, he contacted my mom (they've been divorced since I was 12) and tried to involve her. It was relentless for a year or so, and then the cards kept trickling in, and then it eventually stopped.
Jo: I have written probably one hundred letters but haven't sent any of them. My concern about writing to them is that it will just engage them to throw their manipulation in my face again. I feel like I have no closure but I think I just have to adjust to it. It is hard to not feel guilty as if I am the one that is causing this, but I have come to realize that the problem is that they haven't demonstrated any interest in being parents.
Did you feel like the grieving began or ended when you stopped being in contact?
Kate: Some of both. In some ways, I've been grieving my whole life, because he's never been the kind of father you'd want to have, even minus the sexual abuse. So, I grieve the absence of that imagined relationship. I see other people with "good" dads, and I feel cheated and sad. I also grieve for the father he might have been with adequate mental health and addiction treatment, which he could have had access to, within the limitations of the times (late 1970s through mid 1990s), but chose not to access. I do have some happy memories with him, and I grieve because I sometimes miss that person and I know I can't have that person in my life without the person who did these things to me. My spouse, who lost their father tragically, always tells me, "Grief is a tricky bastard." I believe that. It comes and goes, and at the least expected times.
Jo: I feel like I have been grieving since the moment I realized that it is not that they made a mistake about not protecting me but it is actually something they are willing to do today. It is hard because I feel like every time they try to contact me it feels like I have to start parts of the grieving all over again. I asked my cousin Lisa how she coped with going no contact with her mom. She said she didn't cope and that it was only when her mom died that she felt free. I wish I didn't have to carry this and I am still in the early stage of grieving.
How do you manage the no contact in a social media world?
Kate: That part has been tricky. Luckily, my father isn't a very tech-savvy person, so he doesn't have a huge social media presence. However, I did block him on Facebook, and I've had to block others who are still friends with him. I had one time when I had to speak with my work IT team to block him from emailing me at work, which was pretty uncomfortable, because he was emailing me regularly. (this was early 2000s, when you couldn't do that yourself easily). I do have to communicate openly with friends and family members, asking them to block him and my step-mother, or least not to share my subsequent addresses, phone number (I changed that around the time I cut him off), email, photos of me or details about my life with him. I don't think everyone respects that ask, but for the most part, I've been lucky.
Jo: I blocked my parents on Facebook. My mom wrote to me a few months ago asking me to add her back so she could look at my photos. It is so disorienting to know that they can find out things about me from so many avenues. I live a pretty out in the open life and it makes it feel like they could track me down anywhere.
What have you done to heal?
Kate: Damn. What haven't I done?! Healing has been expensive for me, in both time and money. One time I added it up, and it came to tens of thousands of dollars, almost every penny of which has been out of pocket, and I've never made much money. But the price of not healing was my life. I chose to heal so I could live and thrive. I've been in therapy for 16 years, on and off (mostly on). I currently see a therapist who does lifespan integration and family systems therapy, which have been the most effective for me. I also attend a support group for childhood sexual abuse survivors.  I've had energy work, massage, acupuncture. I've tried meditation and mindfulness (hard for me). I am a member of a recovery program for people affected by the family disease of addiction. I am on an anti-depressant for depression and anxiety and PTSD symptoms. Because of the extensive nature of my trauma history, I have complex PTSD, so healing is a multi-faceted, lifelong process. Living your life constantly in fight or flight takes a toll on your physical health, as well. I have some chronic conditions that I see both allopathic and naturopathic doctors to help me manage. I have to make sure I eat well and get enough sleep. I have great friends, a supportive and loving spouse, a sweet dog and cat. I am also a filmmaker and writer, and I work with this material in my art sometimes.That's healing. I surround myself with others who are healing and who support my healing. Mostly, what I'd say is that I'm a student of resiliency. I interview others about it in my filmmaking work, and I watch and listen to others' stories about their own resiliency. That helps me.
Jo: A LOT of therapy. I have also committed to not passing down this kind of behavior to my kids and to make sure I stay conscious of being there for them and doing things differently for them. I make sure to find mentors that can fill the role of parents in helping to guide me through decisions. I think also realizing that I don't have to recreate my relationship with other people to try to solve my relationship with them has been a big thing.
What advice would you give someone dealing with or facing this choice?
Kate: Choose yourself. Choose to live. If you do that, no matter how hard it is, you will find a way, and you will be OK.
Jo: You can't make people love you. You can't make your parents be parents. It is such a hard thing to deal with but I also was no longer willing to be traumatized regularly. So, yeah, choose the path that gives you the most strength.
Do you ever regret the steps you took?
Kate: Never.
Jo: I  still wish it didn't have to be this way but I have reconciled myself to this reality. I don't regret it, but it is still heartbreaking.
In what ways has this affected your life? In what ways has it affected your kid's lives or the lives of those around you?
Kate: It has given me space to grow up and out into the life I believe I was meant to have. It's given me the space to name what happened and to grieve for it, and for what should have happened and didn't. It's been hard for my mom. She's had to face what happened to me on her watch. It was hard for my siblings. And it's awkward to explain (or even to choose not to) to others that I don't have a father, but that he isn't dead. Mostly though, it's saved my life. Barbara Kingsolver, in one of her essays, said that divorce was like being an animal who is forced to chew its own leg off to get out of a trap. You must do it to survive, but it's almost unbearable. That's what this was like for me. I'm here, though. And my life is my own now.
Jo: I feel like I can just be myself without feeling like that makes me a monster. I think this is a much better model for my kids than just forcing an abusive relationship to continue.
Have you ever wished or hoped that the grief was more "normal" or relatable to other people?
Kate: Yes. Most definitely yes. So much of what has caused me the most pain in this area is around the idea of forgiveness. I have had a few people try to shame me into forgiving my father and allowing him back into my life. I basically told them to fuck off, in nicer words, because I don't think you can understand the necessity of my decision unless you've walked in my shoes. I don't really relate to that Christian concept of forgiveness. At the same time, I've been a student of forgiveness in my life. What I've come to understand for myself is that it's understanding and acceptance. I understand that my relatives were part of an intergenerational family cycle of violence. I accept that that is true. And I accept that instead of choosing to end the cycle with themselves, they chose to perpetuate that. I don't condone that or clearly understand what compels a person to make that choice, but I accept that they did. That is my version of forgiveness. Anything else is between them and their higher power. And, if you want to silence a room, tell them you have a parent who is alive but that you no longer have a relationship with. I've gotten pretty skilled at doing it, but it's still awkward and painful sometimes.
Jo: It is hard because I felt guilty and angry that I was the one that had to be the adult and stop the abuse. That is a hard concept to share with people. It feels like people look at you like you are the problem if you cut off ties with your family. But like Kate said, it is not my shame.
Do you feel like having relatives that have dealt with something similar has helped in any way?
Jo: Yes. I feel much less alone. Sometimes, it is hard to face the magnitude of our family cycle of violence. It's depressing and demoralizing. But, it was so much more depressing and demoralizing when I thought it was just me. Knowing that my sister and cousins are in on this struggle to end it in our generation gives me a lot of heart to carry on when I hit a tough day.
Jo: I don't think I would have been able to take this step without my family. My sister and cousins are a bedrock for me. It gives me a chance to have a reality check and to realize I am not making things up.