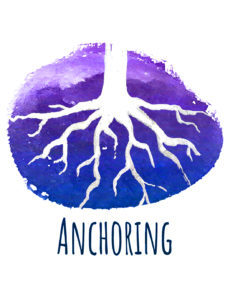 Ambiguous Grief can feel a lot like Groundhog Day. The same messy emotions, with a seemingly directionless plan for healing, all day, every day.  Grounding yourself in who you are, and in what YOUR values are, can be a positive and affirming daily practice.
"Anchoring" is used in coaching and in psychology to help people tap into a positive emotion and find stability. An anchor can be a practice, a ritual, a visual, a smell, a song.
For me, it was 3 things:
Trees

Bracelets

Morning coffee (specifically coffee MUGS).
Awakening to another day of Ambiguous Grief is difficult. To help me get from here to "there", the magical place therapists describe as life "after" this phase, anchors are a tool I continue to use daily.  Interestingly, I feel as though they "picked me" more than I picked them. If nothing pops out as you as you seek to select your anchors, just take a look around your environment and see what calls to you, what calms you.
1. Trees
First, by taking my cue from Mother Nature, I look to the trees all around me. Strong, flexible in the wind, deeply rooted, branches reaching out, housing and comforting life, leaves changing colors, dying, being reborn again.  Seeking the lessons the trees are teaching, I would make it a practice to sit and just watch them. To feel among them. To look up, and to connect to their power.  To understand they are vulnerable, too. Yet, they rise strong. Also, as an ever-present anchor, this piece of art now hangs in my home, a gift to myself, a constant reminder to Rise Up Rooted, like trees.   
This line from the beautiful poem by Rainer Maria Rilke says it best.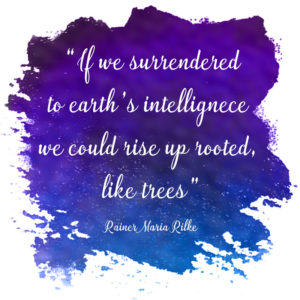 2. Bracelets 
The act of "arming" myself with bracelets has become an important daily practice.
In looking at my bracelets in a photograph, I can see that it's a bit much. While I'm typically a less-is-more kind of gal, these arm bands have grown on me. I wear at least one daily, usually 5, and on particularly tough days, I wear them all. Ahem, today.
One was a gift to myself, the "Mother's Compass", which reminds me to work to be an example to my Trio, to show them how to navigate the unpredictable waves of life. The others were all gifts. Meaningfully chosen by friends, given as words of encouragement, faith, hope, and love during a difficult year. Having something tangible to deliberately "arm" myself with every morning, and to release as I take them off at night, has become an important ritual for me. They make a lot of noise, they are quite a motley collection, and I love every single one.
It doesn't have to be a bracelet, maybe another piece of jewelry can anchor you.  What I like about jewelry specifically, is that I can reach for it as a physical and visual reminder throughout the day.  Having a difficult moment? I can touch my bracelet, remember what it means to me, or the person who gifted it to me, and find comfort as my moment passes.  Put it on with intention, remove it with intention and feel yourself being grounded in the process.
3. Coffee Mugs 
Pick out a good one. For me, I drink a cup of coffee every morning, so the selection of my mug is an important time of day for me. It sets the tone and the intention for the day I am working to have.