Grief is a state borne of loss that we all experience at least once in our lives.
Yet all griefs are not the same.A grief suffered when your living loved one is no longer with you as they once were–this is ambiguous grief.
Ambiguous grief is an experience that shatters your life as you knew it. It's a grief that is not often understood, acknowledged or appreciated—and it can make you feel uniquely isolated.
Yet you're not alone in having this experience. You don't need to suffer alone.
Rise Up Rooted is a place to find community with others who have experienced this unique state of grief. It's a place to be witnessed and heard without judgment. A place to celebrate our milestones, large and small, as we rebuild our lives.
Here we don't need to pretend that the events that triggered our loss haven't happened­–that everything is okay. We can express our feelings precisely as we feel them, whenever we feel them–and we honor each other for our experiences, encouraging each other as we find our way forward in life.
While our stories are different, we support and comfort each other knowing that this ambiguous grief doesn't define our lives. Happiness remains our ultimate goal, even if it is different from how we previously defined happiness.
For now, Rise Up Rooted is our soft-landing place of ambiguous grief. We welcome each other here, knowing that this is not our forever home; it is a place to visit when we are in need, as we need it.
Ultimately, when you become part of Rise Up Rooted:
You are not alone–Although our ambiguous grief stems from different losses,
we value our shared experience
You are safe–Acknowledging our fragility, we respect other people's boundaries, including any preference they may have to remain anonymous
Your unique journey will be honored–We find solace and strength from others here, yet grieve according to our individual needs
We can find a way forward. We can Rise Up Rooted.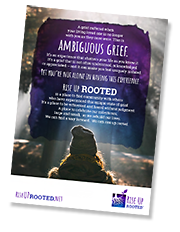 Download a printable short version here.